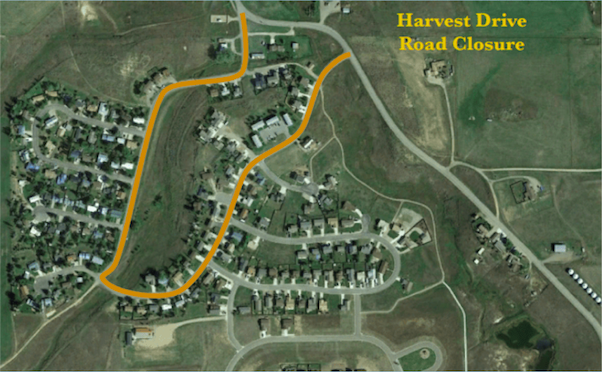 21 Aug

Harvest Dr Rolling Closure

Between August 25 – 27, Harvest Drive will be closed from 7:00 a.m. – 7:00 p.m. for chip seal maintenance.

Chip Seal Placement
A layer of asphalt oil (chip binder) is applied to the road when the weather is sufficiently warm and dry.

This step is immediately followed by a layer of crushed rock, creating a "chip seal."

The chips are pressed into place by a roller and the road is immediately usable. However, the compaction and adherence of chips to the asphalt binder improves with time. SLOW traffic is recommended.

Crews will return within a week to sweep up loose gravel.
During Chip Seal Construction
Crews will post signs before work is expected to begin.

Roads will remain open, but may be reduced to one lane or temporally closed with flaggers.

Driveway access may be temporarily impacted while the work is completed directly in front of the residence.

Crews will make every effort to minimize delays during work.

Roads will be open to traffic at the end of each work day.

Slow speeds will minimize the likelihood of loose chips and possible damage to a vehicle's body or windshield. Faster speeds and turning movements may compromise the resulting quality and life expectancy of the new road surface.
Questions? Call 970-276-3741